BETWEEN MONTS AND LAKE……..
At the edge of Lac du Bourget, 3km from Aix-les-Bains and opposite the Abbey of Hautecombe, come and discover this pretty village in the middle of natural landscapes (cliffs and wooded areas), visit its wineries ( AOC) or take advantage of its beach. Also nicknamed NICE SAVOYARDE because of its Mediterranean microclimate, BRISON SAINT INNOCENT is favorable to olive trees, fig trees and banana trees, It is a paradise for outdoor leisure activities; cycling, mountain biking, golf, tennis, paragliding, downhill skiing, cross-country skiing, hiking, horseback riding, climbing, parachute jumps, sailing, swimming, paddleboarding, kayaking, fishing… we're just waiting for the wave for surfing!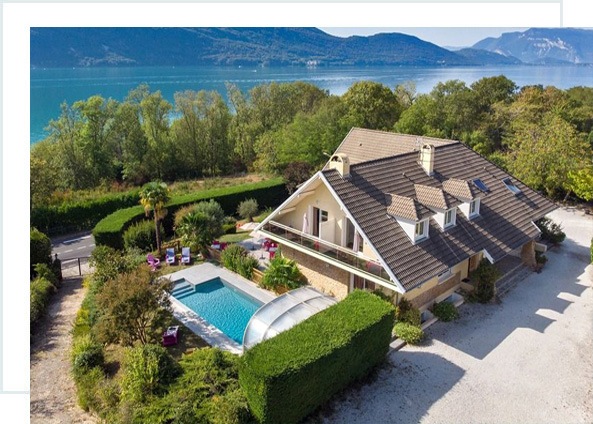 Warms and that look like you
BOOKING AWARDS AND CUSTOMERS REVIEWS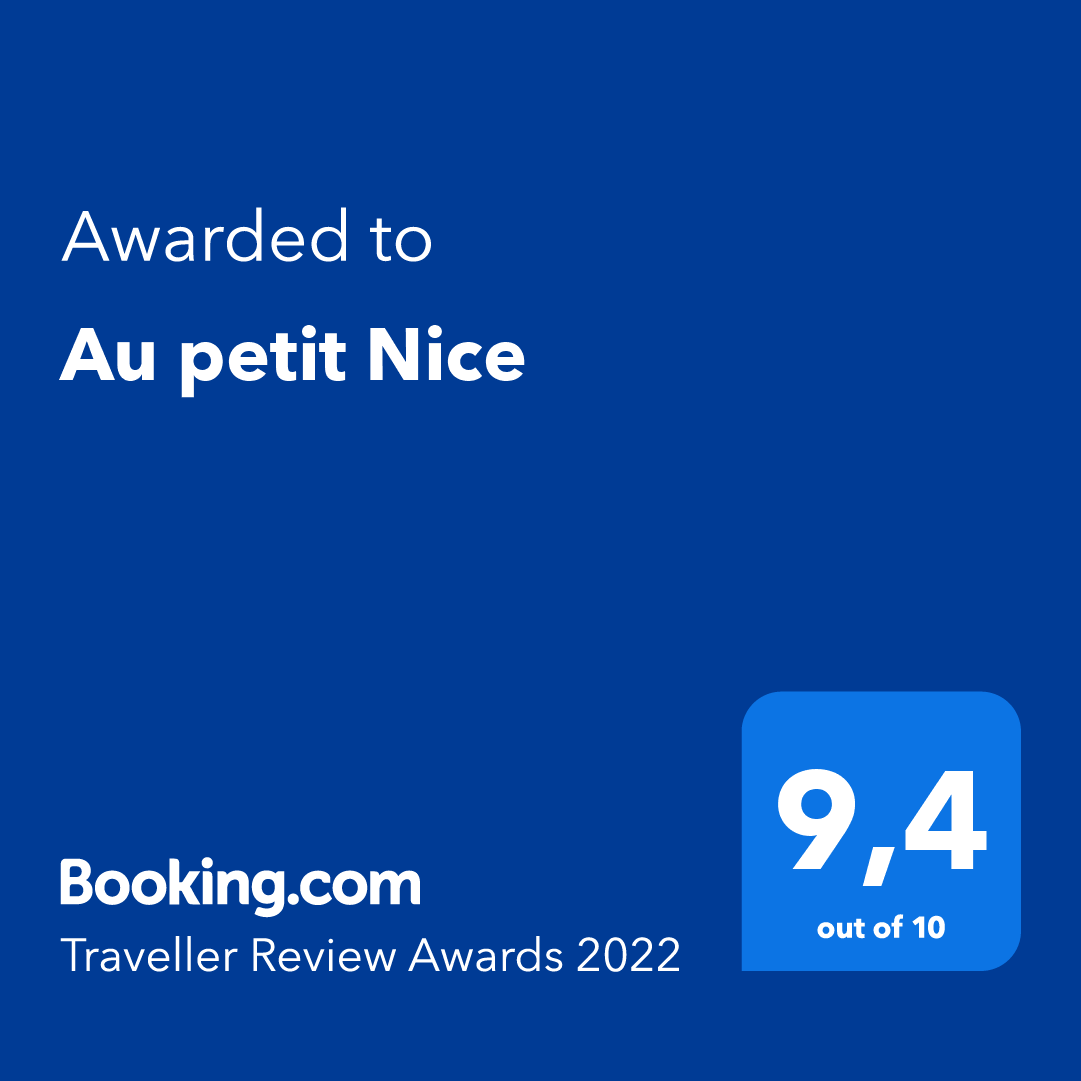 Au top. De passage pour une nuit il y a tout ce qu il faut pour passer un agréable séjour (une cuisine dans la chambre studio propre et fonctionnel) Très bon accueil. Une très bonne adresse à garder pour notre prochain séjour dans le coin (Translated by Google) In the top. Passing through for one night there is everything you need for a pleasant stay (a kitchen in the clean and functional studio room) Very warm welcome. A very good address to keep for our next stay in the area
Gaelle Baumgart
26 June 2022
Nous avons passé un weekend prolongé avec nos deux enfants chez Sophie et nous avons apprécié le studio, la piscine et le lac qui n'est vraiment pas loin (accessible à pieds en 20-25 minutes avec une enfant de 3 ans, sans doute un quart d'heure pour les plus grands). En plus nous avons eu le beau temps. Je recommande 👍
Stéphane D
24 June 2022
Nous avons passé 3 jours dans le studio du bas. Il est confortable et très calme. Si on veut la vue sur le lac, il suffit de sortir et de s'installer au bord de la piscine. Parking sécurisé. Accueil très agréable. Merci Sophie. (Translated by Google) We spent 3 days in the downstairs studio. It is comfortable and very quiet. If you want the view of the lake, just go out and sit by the pool. Secure car park. Very pleasant welcome. Thank you Sophie.
James Roche
15 June 2022
Une première visite à Aix-les-Bains moi et mon copain. On a décidé de se loger au Petit Nice Le gites très bien équipés, avec une très grande piscine une vue a coupé le souffle . La responsable du gîte nous a très bien accueilli et nous a conseillé plusieurs lieux et activités aux alentours d'Aix-les-Bains. (Translated by Google) A first visit to Aix-les-Bains me and my boyfriend. We decided to stay at Petit Nice The cottages are very well equipped, with a very large swimming pool and a breathtaking view. The manager of the gîte gave us a very warm welcome and recommended several places and activities around Aix-les-Bains.
Capirchio Estelle
14 June 2022
Très beau gîte et accueil très chaleureux. Bien situé près de la belle plage de Brison. Je recommande vivement. (Translated by Google) Very nice cottage and very warm welcome. Well located near the beautiful beach of Brison. I highly recommend.
Nathalie Bastien
29 April 2022
it was an amazing stay! the owners were very friendly! totally recommend that place! it was real pleasure! 🤗
Hot Since 92
8 April 2022
Nothing to complain! Great micro apartament with everything you need in amazing surroundings ❤️❤️❤️
Mrs Blc
6 April 2022
Les gerants Sont très sympas Endroit magnifique à refaire (Translated by Google) The managers are very friendly Beautiful place to redo
Thierry C
19 March 2022
Super beaux logements emplacement de rêve (Translated by Google) Super beautiful accommodations dream location
Sylvain Charles
13 February 2022
Nice place to stay close to the lake. Good modern rooms with all the basic cooking utensils +fridge+magnetron. Very easy and comforable stay. Nice walks directly from the house are possible though bringing a car would be best.
Christiaan Huigens
19 January 2022
Ba Rathidavi
16 January 2022
(Translated by Google) Nice apartment with very nice apartment, we did not book a room with a window to the lake so we only saw the mountains The pool is not connected to the complex, we got a relatively small room Fully equipped kitchen Induction stove only 2 towels and one tissue, the owner showed us recommended routes (Original) דירה נחמדת בעלת הדירה מאד אדיבה, לא הזמנו חדר עם חלון לאגם אז רק ראינו את ההרים הברכה לא קשורה למתחם, קיבלנו חדר יחסית קטן מטבח מאובזר כירים אינדוקציה רק 2 מגבות וטישו אחד, בעלת הדירה הראתה לנו מסלולים מומלצים
גיטי giti
19 October 2021
Excellente expérience. En premier lieu un emplacement avec vue lac et montagne superbe, vélo a privilégier pour les déplacements grace aux pistes cyclables. Les gites appartements sont bien équipés, propreté irréprochable, la piscine et les transats super agréables. Sophie la maitresse de maison est disponible et a l'écoute pour toute question. Essayer c'est l'adopter ! (Translated by Google) Excellent experience. First and foremost a location with superb lake and mountain views, preferable bikes for trips thanks to the cycle paths. The self catering apartments are well equipped, impeccably clean, the swimming pool and the deckchairs are super pleasant. Sophie, the hostess, is available and listens to any questions. To try is to adopt it!
Emmanuel Bourg
7 October 2021
L'accueil est parfait. Le studio est très propre et bien agencé. La propriétaite est au petit soin pour ses clients. Le parking est sécurisé. Nous allons revenir avec grand plaisir. Merci. (Translated by Google) The reception is perfect. The studio is very clean and well appointed. The property takes great care of its customers. Parking is secure. We will be back with great pleasure. Thank you.
Daniel DELORME
24 September 2021
Des chambres très confortables et très bien équipées, une belle vue : un bel emplacement pour découvrir les alentours d'Aix-les-Bains 🌞🤗 (Translated by Google) Very comfortable and very well-equipped rooms, a beautiful view: a great location for exploring the surroundings of Aix-les-Bains 🌞🤗
Christel Pitance
18 September 2021
Alexander Stangl
22 August 2021
Etat impeccable. chambres soignées et très agréables.localisation top pour ballades et bateau sur le lac .Hotesse aux petits soins très accueillante et disponible .Tout pour un séjour qui donne envie de revenir (Translated by Google) Immaculate condition. neat and very pleasant rooms. top location for walks and boat trips on the lake. Very welcoming and helpful hostess. Everything for a stay that makes you want to come back
Sandrine Cartayrade
12 August 2021
Rodolphe Blanchard
11 August 2021
Le gîte est très bien situé et l'accès à la plage de Brison se fait en 15 minutes à pieds facilement. Notre appartement disposait d'une vue dont on ne peut se lasser Le gîte est très bien équipé et propreté +++ Sophie la propriétaire est toujours présente pour nous donner des conseils sur les activités Bref on y reviendra ! (Translated by Google) The lodge is very well located and the access to Brison beach is easily done in 15 minutes. Our apartment had a view that we can't get enough of The cottage is very well equipped and clean +++ Sophie the owner is always present to give us advice on activities In short, we will come back to it!
cholvy laurence
30 July 2021
Harun Osmanovic
29 July 2021